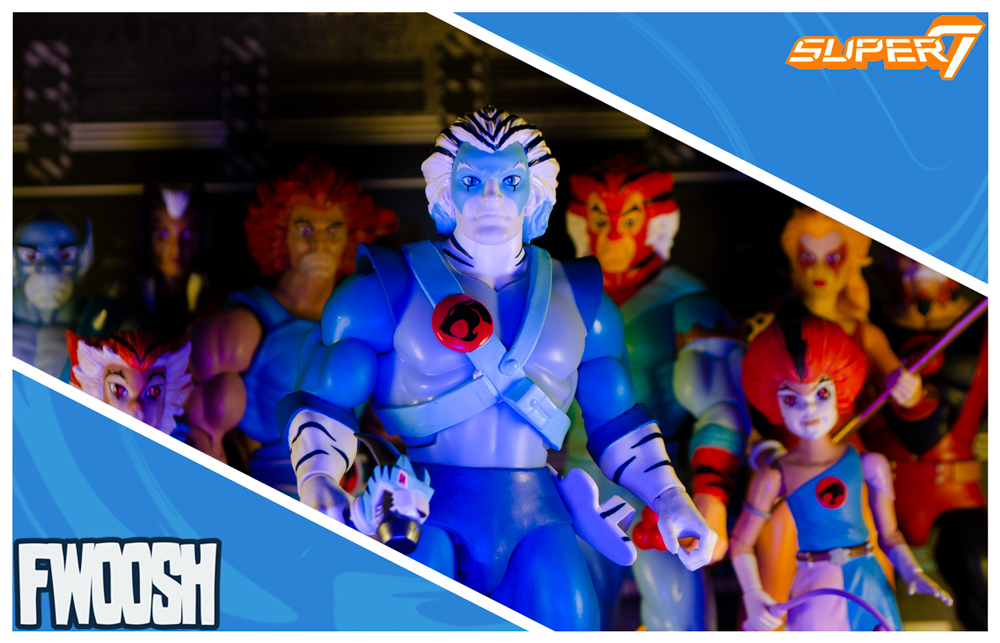 Yes, we might be two days away from San Diego Comic Con – but there is also new ThunderCats! ULTIMATES! series 5, featuring Vultureman, Bengali, Captain Hammerhand, and Mirror Lion-O is just about to ship, and we have a First Look.
These just arrived yesterday, but I wanted to make sure to get some thoughts and pictures together prior to heading to SDCC. I will have more thoughts to share after the show, but overall, this is a very solid wave. Series 2, which was produced at the prior factory (Super7 is no longer using that factory), had production delays and some QC issues, but this wave has hit pretty much on-time, and the production quality overall might be the best for an entire series yet. This is a diverse group, but when considering materials, joint quality, and paint finishes, everything works really well.
We have a new SDCC exclusive Lion-O heading our way soon, and according to my last interview with Brian Flynn, Series 6 should be back up for pre-order soon. The rest of the year promises more pre-orders, but this should be our last full wave for a bit as things catch up (Mandora and the Thunder Tank are, of course, coming as well), and it is good one for sure.
Here are some quick thoughts on each figure.
VULTUREMAN
The final of the "main mutants" from Plundarr (Ratar-O will hopefully be along soon), Vultureman was not on the show from the very beginning, but very soon after. This figure is all-new with no reused parts or tooling, at least from what I can tell. Vultureman is skinnier than the other mutants in terms of his arms and legs, and is body is appropriately gross-looking – like a plucked chicken. His likeness is great, especially across both portraits, and I am definitely partial to the open-mouthed version. I really appreciate the soft plastic used on the "fur" and the "skirt" because while they cover critical joints, the softness of the plastic helps to reduce the amount the restriction. Also, I know there was some speculation, but he DOES have torso articulation in the form of a floating diaphragm joint.
Now, early renders showed Vultureman to be pretty tall, and he is inarguably the tallest of all of the mutants. However, he is not as tall as what I originally expecting. When posed naturally, he fits in fine for me. Now, if his legs are fully straight he is going to be pretty tall, but I have all of the mutants posed with bent knees so he will be no exception. I am positive there will be collectors who find him to too tall, but I think most be fine with him. No matter his height, he looks fantastic – and he and Monkian and Slithe really are quite the group. I almost feel like we might be due for a new Jackalman at this point to fit better with the newer guys.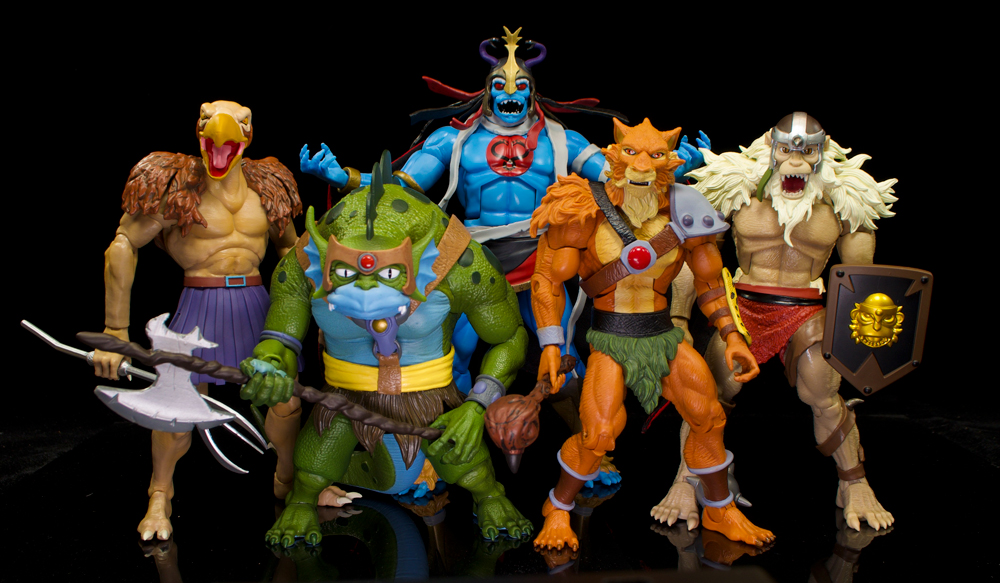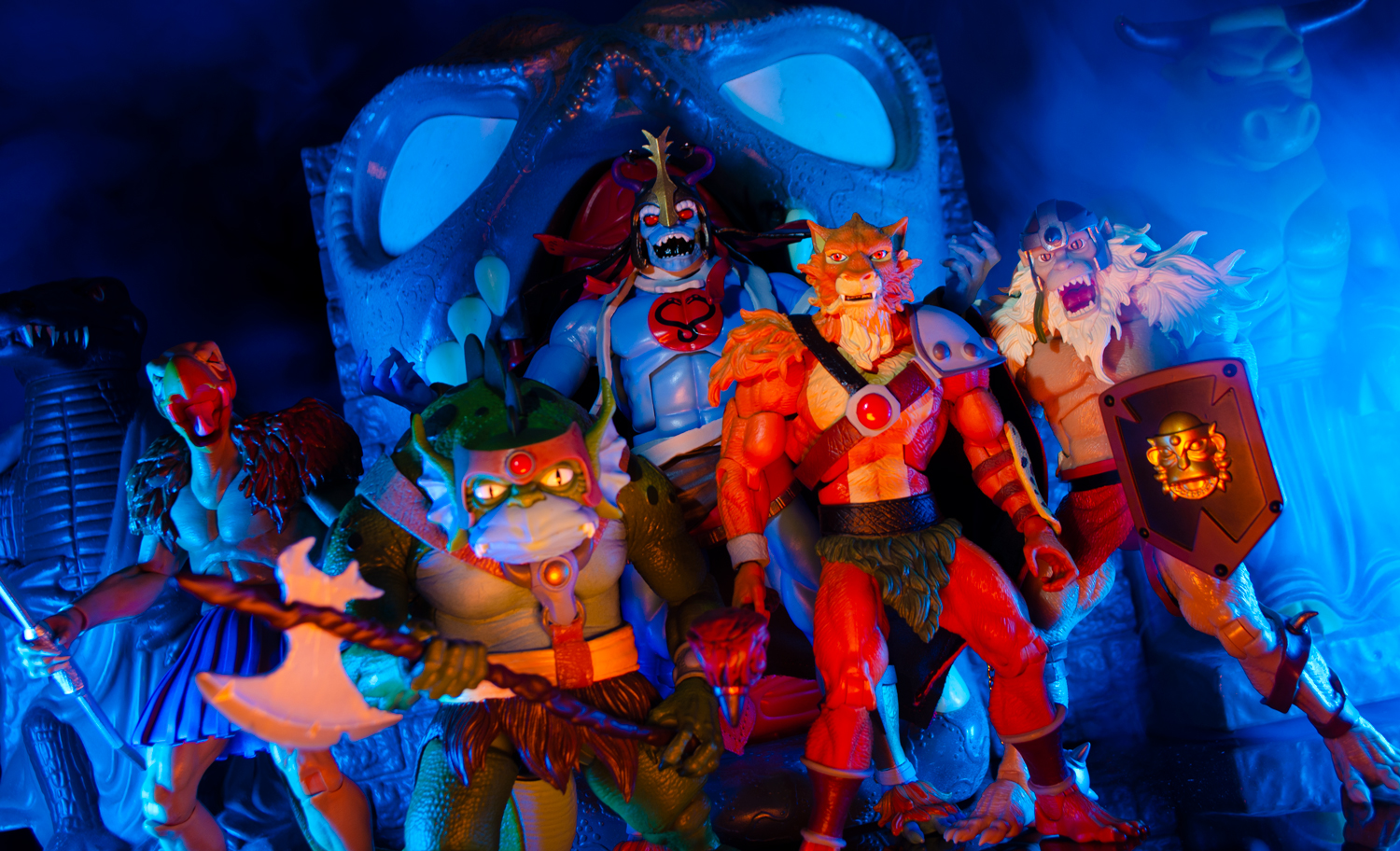 Vultureman includes a bevy of accessories, including several swappable hands. He has three separate blasters, his super potion, a screwdriver, pliers, and a wrench. Additionally, he has a set of goggles that I really, really love, and his weird vintage toy claw weapon as well.
CAPTAIN HAMMERHAND
Ar, the Berserkers have begun! Building out smaller teams is always exciting in a line like this, and unicorn-hunting pirates are an important part of the ThunderCats rogues gallery. Hammerhand had a couple of different looks during the course of the cartoon, and this figure is based on his second look as well as his vintage LJN figure. Again, this figure is all-new from what I can tell, and a spot I want to point out is that while the renders seems to show a lack of abdominal articulation, I am happy to report that he DOES have a floating diaphragm joint just under his shirt thingee.
Hammerhand is know for, well, his hand and he has three swappable left hands, and two swappable "hammer hands." One of the hands has articulated fingers to assist with posing, and the other is a fixed fist for fightin'. The hammer hands and arm move really well, so the Captain can hold his own in battle with ThunderCats.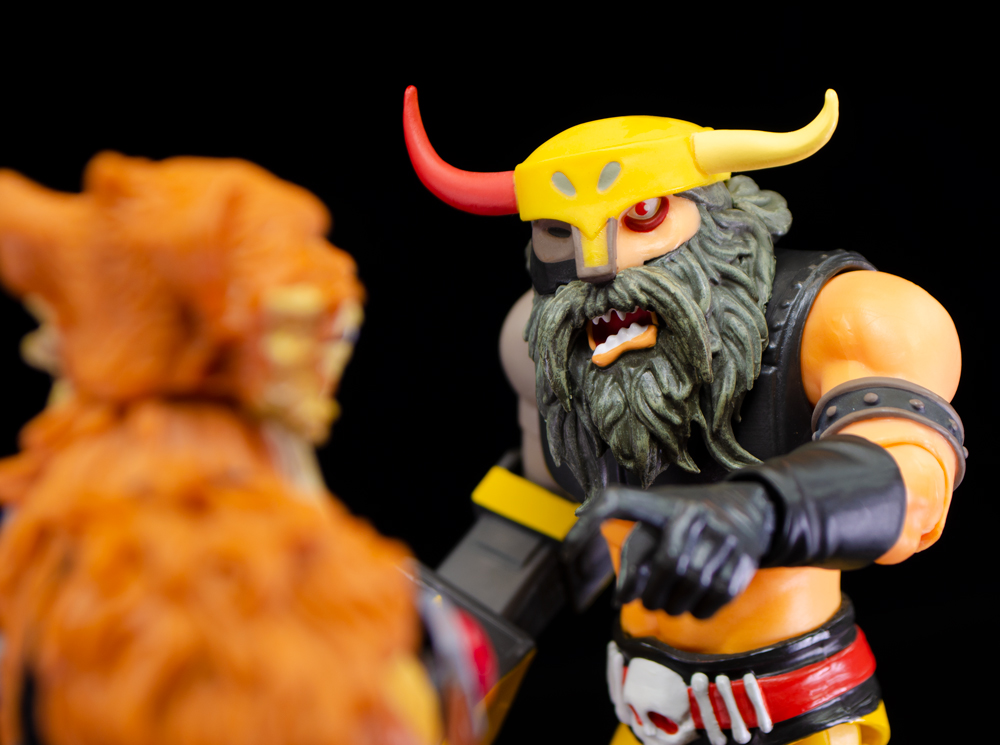 Hammerhand also gets two portraits, one with a closed mouth and one with and open – and both heads are constructed by multiple parts. The back of his hair is made with a very soft plastic so it doesn't iniquity the neck movement, so that is a nice touch. He also comes with a blunderbuss rifle and two coin bags.
BENGALI
The ThunderCats blacksmith is the final of the three "season three" cats to join the line. A Thundarian refugee like Pumyra and Lynx-O, he was made a ThunderCat on Third Earth. He is most certainly my runaway favorite of this group, both in character as well as new action figure, so I am glad to get the "Cool Ranch" Tygra in the line. I am impressed by the QC on this figure, especially the paint – when dealing with a character with a lot of white, paint can go awry, but I am glad to report that Bengali is very clean.
His accessories really shine as well, both in the amount and specific inclusions. Like all the figures in this assortment, he has two portraits: one standard that realizes his personality well, and one glowing-eyed "summoned" head. There are several hands, including fists and grips that have both up and down and side to side pegs. With the myriad of accessories, getting different grips is appreciated.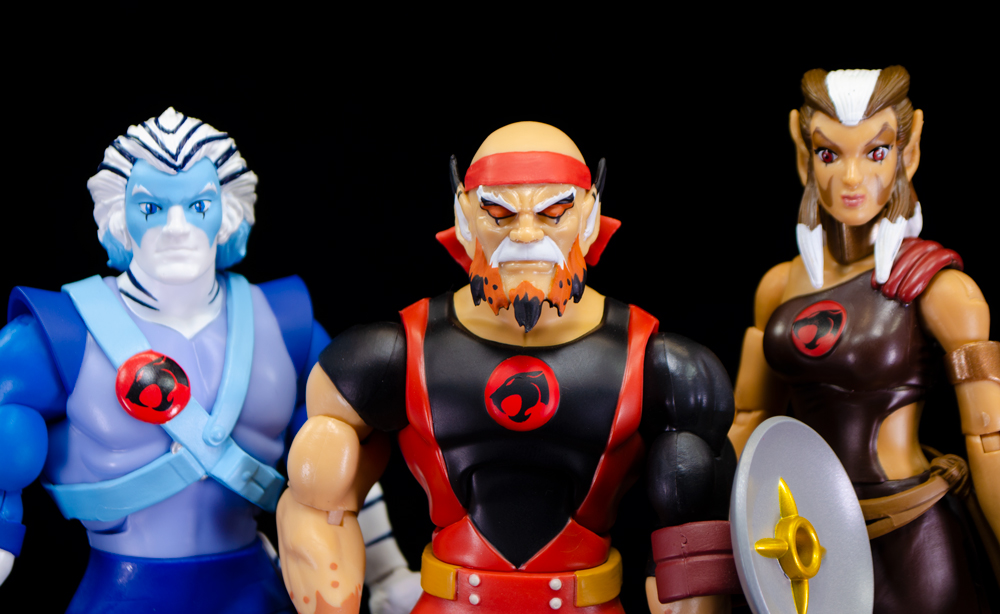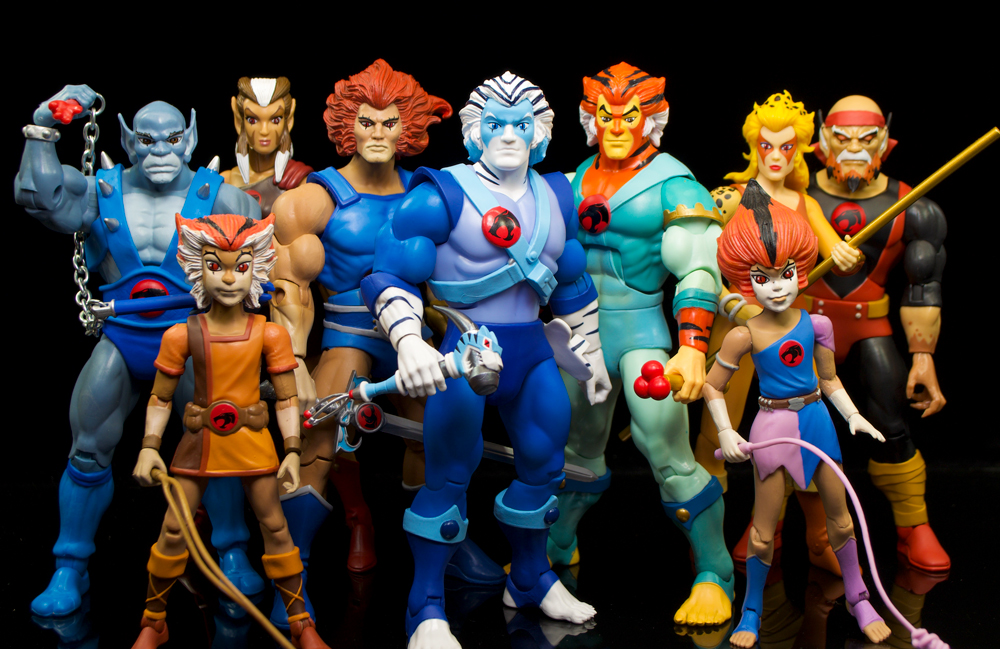 Bengali's blacksmith hammer is really well done, and it fits right into the hip holster. A chunk of ore is included, as well as the long pedestal and anvil. The latter of which has a lot of detail to it and like the lines around the ThunderCats logo. My favorite inclusion is the reforged Sword of Omens from the pivotal cartoon scene. The flame effects are really cool and it adds a nice variation on the iconic sword.
MIRROR LION-O
Ah, the Lion-O figure gets an upgrade with new tooling and pinless joints, and it's not even really Lion-O. That's right, Mumm-Ra in disguise gave a memorable storyline as well as palette change for Lion-O's clothes from blue to red-orange. The pinless aspects in the limbs are the most noticeable differences in this new tooling, but there are a couple of other updates as well.
This Mirror version gets the standard Lion-O portrait, as well as the angry version. I want to point out that heads are now in two parts, and the hair on both heads is a separate piece, now cast in a softer plastic. Lion-O gets the same hands as Bengali, so it's cool to get the fists here, but the big one is the up and down joint in his sword hand. Lion-O can FINALLY hold the Sword of Omens aloft properly. I will say that, even though I have not tried it, I think you can swap this figure's limbs with the standard Lion-O for the pinless aspect. The colors and joints certainly match. You will need some sticky tack or something to swap the heads on the older body as the neck peg hold is much further up in the head this time, so it will sit too low without some help. These new parts make me want the torso and boots to be redone as well to give us a taller Lion-O. Hopefully that can be something for down the road.
Mirror Lion-O comes with the Sword of Omens with a nice shiny finish and a clean tampo print. He also has the holstered Claw Shield, but also the left hand swappable open claw, fist, and finger claw shot.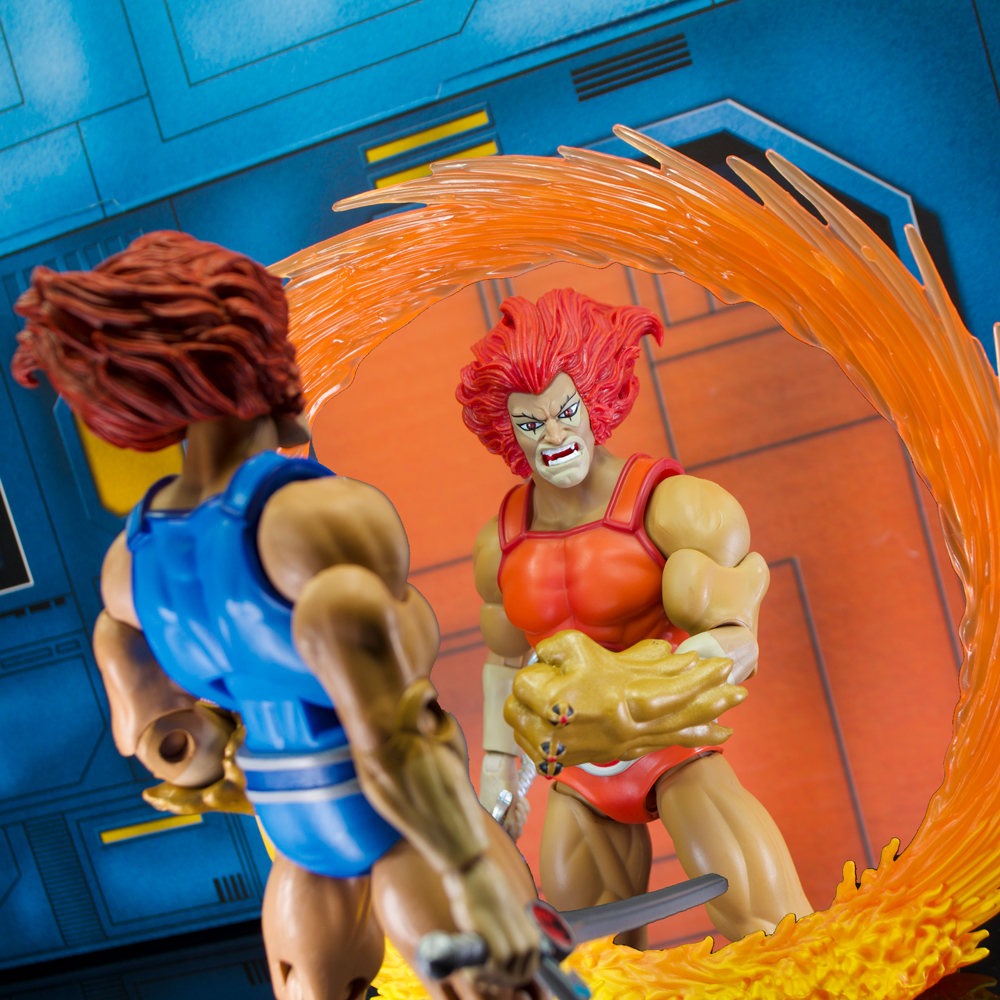 Like I said, overall – this is a solid wave. Aside from Vultureman's height being an issue for some, I don't see many more quibbles coming from this series. The production quality is really strong, and if this is what we should expect going forward, things are looking to be really solid. If you pre-ordered these, expect them to start shipping really soon. If you have not ordered them yet, head to BBTS and get your set.
*Thanks to Super7 for sending these along for a First Look.
Related