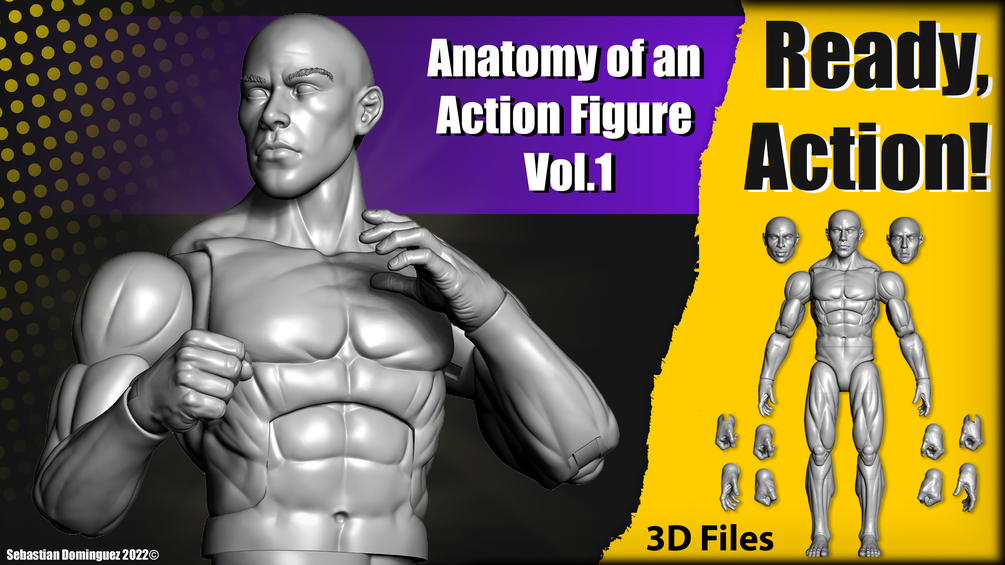 Base Action Figure to give your dream project a jumpstart.
Via Planetary Dog Toys:
Ready, Action! Anatomy of an Action Figure- Male© is a 3D File for any 3D software. With this file you can create any character that you envision. You can also modify the file to adapt it to your own project.
Supported Zbrush versions:
Zbrush 2021.7 Win / OSX (newer versions too).
Files Included:
– 2 action figure files each with different torso, shoulder and arm articulations (OBJ).
– 1 file with all pieces cataloged and ready for sculpting (ZTL).
MAIN FEATURES
Mass Production Ready: These 3D models are ready to be handed to a factory to be produced. Any clothing, accessories, armor, etc. sculpted on the character will work as long as the joints are not modified.
Joint Variation: Inside the files you will find 2 versions of arms and torsos to suit your preference. The arms and torsos are interchangeable.
Ultra Poseable: This buck file has been prepared to strike extreme and difficult poses.
Multiple Production Licenses: There are 3 different licenses for you to choose the one that fits your interests best.
Scalable: The file can be scaled to any size so it can be used with common scales like 1:18, 1:12, 1:10, and 1:4.
EXTRA FEATURES
Many Hands, Many Faces: Between both files you will find 4 expressive sets of hands and 3 different heads.
Easy to Create Characters: The files are ordered logically making them easy to find for organic character creation.
3D OBJ File: Files that work outside of Zbrush for any non-Zbrush project.
Joint Pins: The Zbrush files contain pins for the joints in case you want to subtract them for production.
Pegless Joints: The joints come without peg heads, allowing any type of peg head to be added. Same case for ratcheting.
Pieces in Folders: The action figure parts are separated into folders inside the Zbrush file.
Optimized Files: Files have been optimized topologically so they are easy for most computers to handle.
… and much more.
Check out the full information HERE.
Visit on Instagram
Related