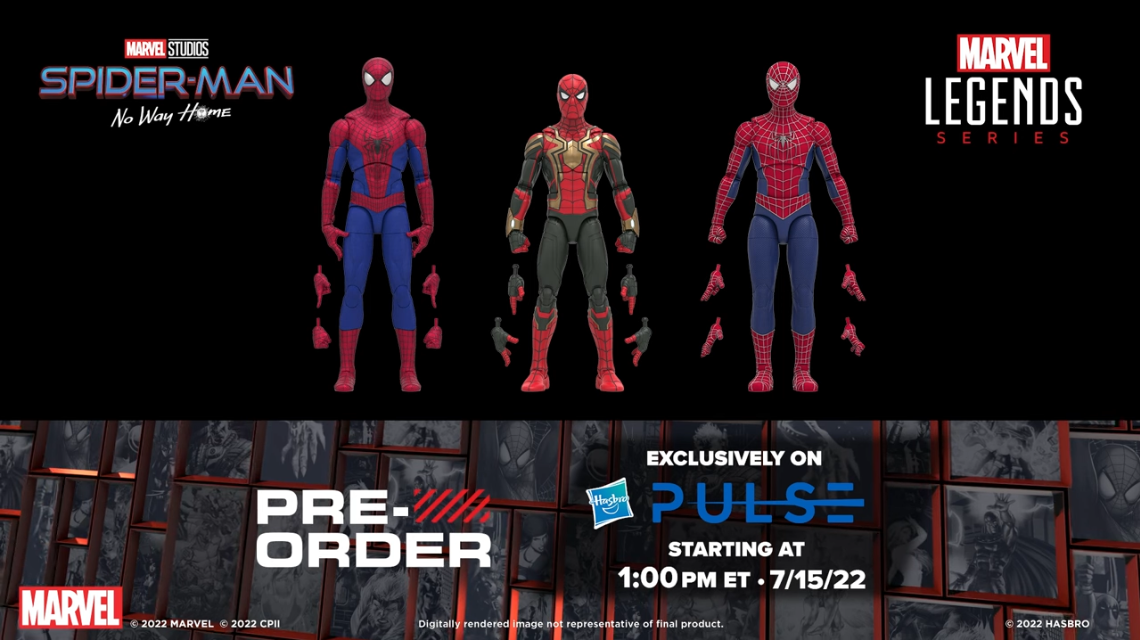 While one would expect the Friday before SDCC to be the quiet before the storm, Dwight and Ryan from the Hasbro Marvel team are out here showing off new ML figures in the form of the Marvel Legends Series Spider-Man: No Way Home Multiverse Edition 3-Pack!
This new set featuring all three of the Spider-Mans? Spider-Men? from No Way Home are included in this set. It will be available today for pre-order at Hasbro Pulse at 1:00pm EDT for Pulse Premium Members, then at 2:00pm EDT for all fans. Check out the video from Ryan and Dwight below, then head over to Hasbro Pulse later today to order. Please note: this set does NOT contain alternate civilian likeness heads.
MARVEL LEGENDS SERIES SPIDER-MAN: NO WAY HOME PACK
(HASBRO/Ages 4 years & up/Approx. Retail Price: $89.99)
To save his city, web-slinger Peter Parker – in his integrated nanotech suit – enlists the help of a couple of new friends: Friendly Neighborhood Spider-Man and The Amazing Spider-Man! Celebrate the MARVEL UNIVERSE with this MARVEL LEGENDS SERIES SPIDER-MAN: NO WAY HOME PACK figures. This action figure 3-pack is inspired by the epic final battle in Spider-Man: No Way Home, featuring all three cinematic Spider-Man super heroes in their unique attire! Each of these quality 6-inch scale figures feature premium articulation and movie-authentic sculpting detail and premium deco, including painted web lines on all three suits – making them stand-out additions to any Marvel fan's collection! Includes 3 figures and 15 accessories.
With over 80 years of entertainment history, Marvel has become a cornerstone of fan collections around the world. With the Marvel Legends Series, fan favorite Marvel Comic Universe and Marvel Cinematic Universe characters are designed with premium detail and articulation for posing and display in collections. Available for pre-order at 1PM ET at Hasbro Pulse and most major retailers.
Related