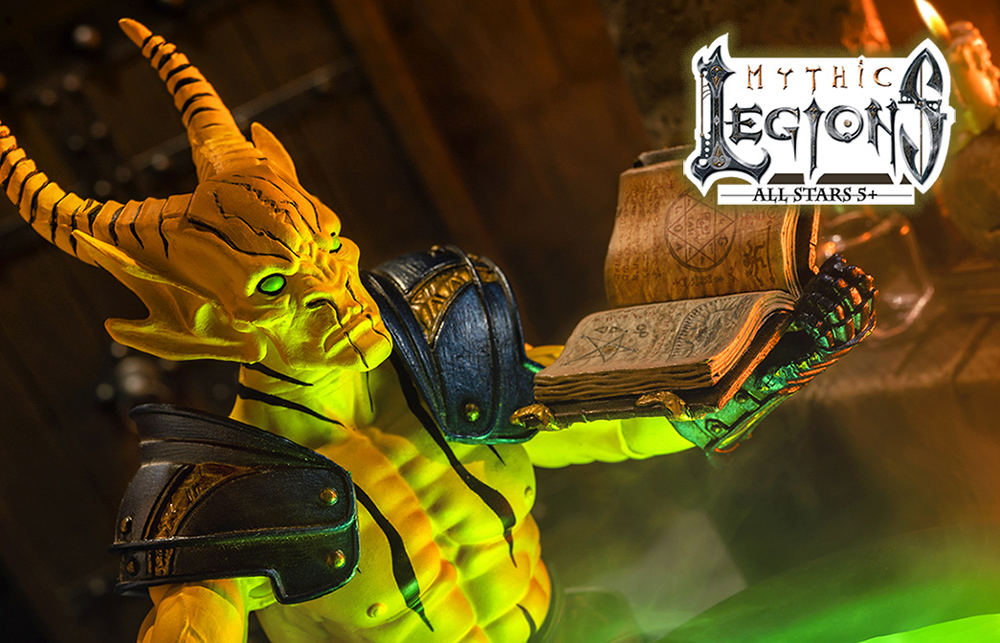 The latest Mythic Legions All-Stars are here!
It's time to get your pre-orders in for the new wave. Check out all the details below.
Throughout July 2022, Four Horsemen Studios has been unveiling the figures that will be part of their latest wave – a wave which has just gone up for preorder on the company's website, www.StoreHorsemen.com! Dubbed the "All Stars 5+" wave, this release continues the company's popular program of allowing fans to vote for older figures to be reissued in the line! The year's All Stars wave includes new releases for the Mercurian warrior – Rahmulus, the undead Viking warrior – Ilgar, and the yellow-skinned demon known as Azhar!
In addition to these reissued figures, the new Mythic Legions wave contains a number of brand-new items, never available in the line before. These new items start with the pair of "Power-con Debut" figures – Zenithon and Okeaetos!
Other brand-new figures includes the protectors of the forests of Xylona's Flock – the Xylernian Guard, the devious goblin alchemist named Swigg, the cruel and evil Lady Avarona, and the heroic northern ranger named Duban. There is also brand-new Mythic Legions horse figure – the mighty steed known as Boreus!
Rounding out this new wave is the first ever "Mythic Legions Heads Pack", which includes newly painted versions of heads voted on by the fans, as well as a savage vampire head available for the first time ever in this set!
The StoreHorsemen.com preorder for "Mythic Legions: All Stars 5+" is open now and it runs until Sunday, September 4th at 11pm EST. All items are available for preorder individually, and there is also a discounted "All In" option which includes one of every item in the wave for $385 (plus shipping and applicable taxes).
The entire All Stars 5+ wave will also be on display at the Four Horsemen Studios' booth at Power-Con in Columbus, OH from August 5-7. In addition to these prototypes and other figures on display, members of Four Horsemen Studios will be in attendance at the show to meet fans and they will have a selection of Mythic Legions items for sale.
Related