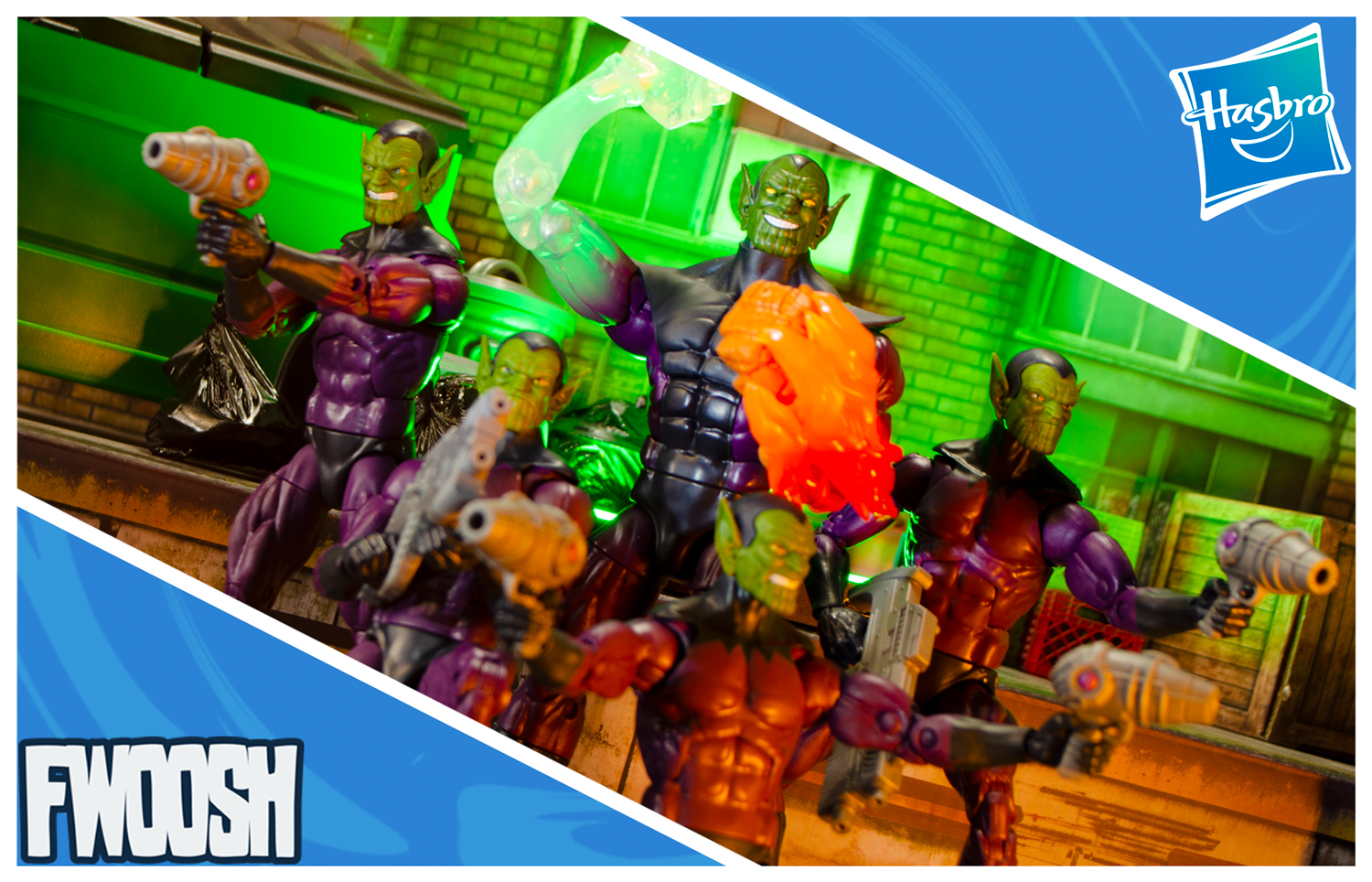 I want your Skrulls! I need your Skrulls!
Okay, I get that is not the actual lyric from the seminal Misfits song, "Skulls," but this point still stands – I want your Skrulls. I want ALL the Skrulls. In the annals of potential Marvel Legends army builder figures, the Skrulls have been at the top of my list since the start, so I am quite pleased that my mini army has now arrived from Hasbro Pulse. Sure, four is not nearly enough, but it is a good start, and I plan on adding more to my ranks as they are available whenever I place an order at Pulse. No, I don't know where they are all gonna go, but that is problem for future me. Present me just needs an invasion army, so let's GOOOOOOOOOO!
Army building figures as Pulse exclusive in plastic-free packaging has been a great idea since the concept was rolled out a couple of years ago. I think the last time Toy Fair was actually held was when the team presented (Hydra guys, right? I have a hard time remembering at this point), so it has been a bit of a wait to get these intergalactic green miscreants, but in that time, we have gotten a Super Skrull to lead them, and more Fantastic Four characters for them to battle. So it's all good, and I have been loving all of the pictures that have been shared of these guys already, so I know people are having fun building out their ranks. I am just happy to join them now, and I am please with how these turned out.
Like the previous army-builders, the Skrulls are pretty straightforward releases, and honestly, I like that no-nonsense approach. It helps to keep the price tag at a reasonable point to be able to build that army, the packaging is simple (closed cardboard box and wax paper bag to hold the items within), and there are a few options via multiple heads and weapons to add variety to the ranks. Sure, you could always want more, but it took me about two minutes to get these guys opened and set, and with four, I have ZERO repeats in terms of configuration, so that is a good thing. 
The figure is built on the recent Human Torch body, which has been used several times over the past couple of years (maybe Sunfire was the first?). It is lean and not overly tall, which I think works just fine for the rank-and-file Skrulls. The figure is obviously and appropriately smaller than the Super Skrull BAF from a bit ago, but it is also a little smaller than the average Legend, so I feel it works there, too. The simple purple and black jumpsuit is clean and has been handled via paint, so it has a classic feel to it. You get gripper hands to accommodate both of the included weapons if you so choose, but with the wealth of blasters already available in ML at this point, they can handle other weaponry, too. 
The heads and weapons are the new pieces, as you would imagine. Now, I say that because I *think* the weapons are new, but the larger one especially might be reused. I am positive it will be called out below, but again, I have a tough time remembering all of the accessories we have gotten over the life of Legends. One is more of a rifle and the other is a pistol, and the former feels more modern to me, while the latter has that classic vibe. So, if your Legends adventures are current, or in the Swingin' Sixties, or anywhere in between, you should be set. Like I said though, if you are not into either of these, it is simple enough to raid the cache of any of the hundreds of options ML has to offer.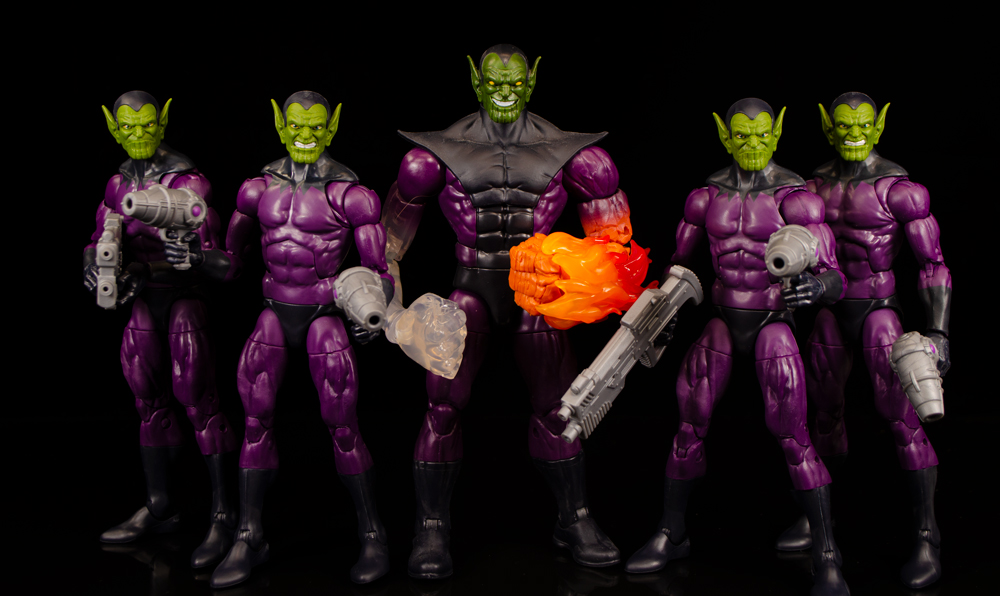 The included portraits contain and gritted teeth/ferocious expression, then a fairly placid look. These are logical and probably expected by most to be the direction for these, and they work fine. If I wanted anything else with these guys, it would have been a couple of other heads of varying expressions, but I get that they would have to be brand new. Most of the other previous packs could use different heads from other releases since they are humanoid, so that makes them easier, but these aren't in the same boat. That said, I guess ANY head can be a Skrull head if you want it to be, so your entire collection could potentially be Skrulls.
If you can't tell, I am glad to have some Skrulls in my Legends collection. It is strange that this this is the first time regular Skrulls have been in the line. That dratted Super Skrull has been hogging the spotlight since the Toy Biz days. These are currently sold out, but it is expected that they become open stock at Hasbro Pulse in the future so you can build your army. Keep your eye on their PAGE and notifications of restocks, at $15.99 the price is certainly right.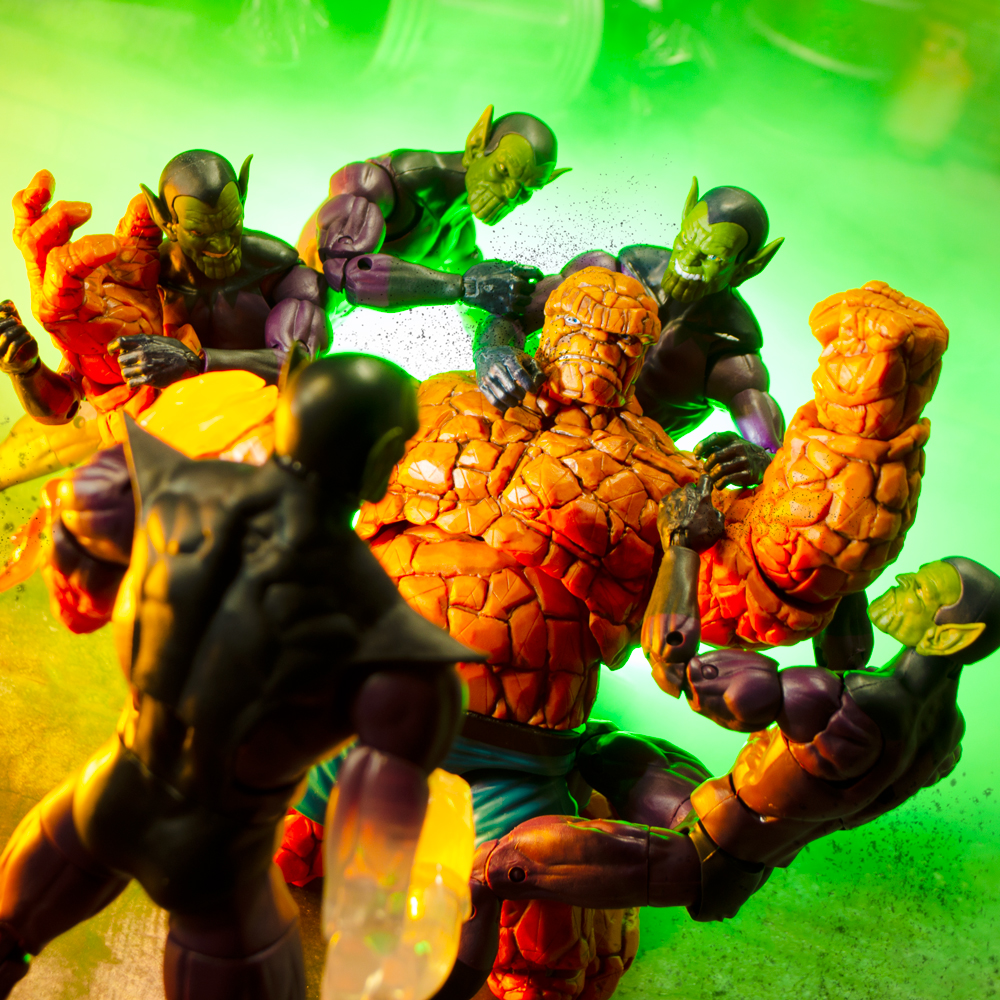 Related