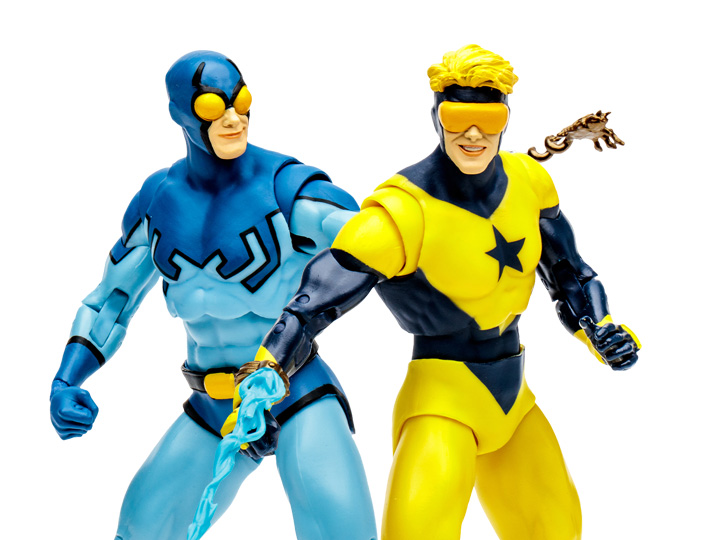 Yes, this absolutely does deserve its own article. I cannot believe my boy Blue is getting a new CLASSIC action figure from McFarlane!
Even though this wasn't at SDCC, the news broke during the show, so it really is one of the best parts of the convention-timed reveals. This is a classic looking set, something that we have not really seen, and it feature Blue Beetle and Booster Gold. It's pretty amazing. I am going to stay in-check about thinking this might be a sign of things to come, but at least they got the best DC character out first!
Booster Gold: A college football star of the 25th Century who earned the nickname "Booster" on the field. Even though people assured him a professional career of fame and fortune was in his future, he decided he couldn't wait and wagered on his own games. The scandal ruined his dreams and reputation. Taking a job as a security guard in the Metropolis Space Museum, Mike saw another opportunity after studying the early age of superheroes. With future and alien technology stolen from the museum, and a time machine that was on display, he realized he could not only become a superhero himself in a past era where his criminal history was unknown, but he could also make his good deeds profitable.
Blue Beetle: Over the course of a century, three different men from very different backgrounds have taken on the heroic mantle of the Blue Beetle, each making their mark in different ways. The original Beetle was an archaeologist named Dan Garrett, who discovered an ancient Scarab in an old Egyptian tomb that gave him superpowers which he used to fight crime. He was succeeded by the brilliant Ted Kord, who had no powers to speak of, but carried on the Blue Beetle legacy with just his wits and his fists, along with a whole lot of gadgets and a sharp sense of humor.
Box Contents
Booster Gold figure
Blue Beetle figure
Blast effect
Grapple launcher
Cellphone
Drone
Diorama base
Related